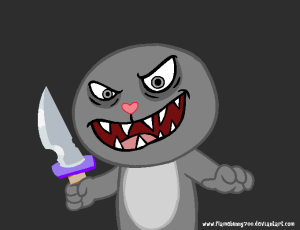 As an atheist, I have a recurring conversation with many believers. They can't understand why I bother to try to be a good person without the impending fear of judgement and damnation. If I don't think God is watching me and keeping score, why don't I just go on a hedonistic binge of barbarism?
I always try to patiently respond that my motivation is mostly internal. I want to judge myself to be useful, productive, helpful, and caring. There is an external aspect to it as well. I want my family and friends to judge me positively. I don't believe in life everlasting. My only shot at living beyond my mortal years is in the recollections of those who might remember me. And for reasons of my own making, I want that legacy to be based on fondness, respect, and maybe even admiration, not on infamy. That is what I aspire to, and what inspires me.
What I don't usually share is that their question frightens the hell out of me. The implication (or in some cases, the outright admission) is that the only thing standing between them and a life of raping and pillaging is belief in some exogenous force poised to reign retribution down upon them. They are not a tamed animal, they are a caged one.
Of late, I've begun to wonder if this same need for external fear-based motivation extends beyond the realm of religion and morality. In economics, I hear the repeated notion that minimum wages, guaranteed health care, food stamps, unions, and any other program designed to help the poor or the working poor is inherently destructive. It removes the incentive to work harder, train harder, or even to work at all. The underlying assumption seems to be that absent the fear of homelessness and starvation, no one would get out of bed in the morning. It isn't enough to have a sizable carrot in front of you unless there's a big angry stick behind you to keep you moving.
This same attitude seems to bleed into foreign policy as well. The notion that the USA must remain the preeminent military power on the planet because otherwise we'll lose our ability to influence other countries seems predicated on the notion that our power comes from fear that we instill. We repeatedly demonstrate that fear of terrorism will motivate us to actions we would otherwise never consider. In fact politics has largely degenerated into a game of which party can paint the scarier future if the other guy wins.
It even strikes me that much of our gun-culture stems from fears that everyone else, left to their own devices, would pose a threat. It is only by being a bigger threat yourself, that you're able to keep them at bay.
I do believe that most people view others through their own life-lens. That is, they project their own desires, tendencies, and morality onto the behavior of others. People who worry about the downside of atheism, economic security, and world peace are reacting from the awareness that they themselves realize that in such a world, they would rapidly fall into an existence of varying degrees of unfettered sociopathy.
That there exist so many people contained only by a variety of fears is more than disconcerting. And it would be one thing if there was a recognition that fear-based motivation was destructive and there was a collective consensus to mitigate it. Conversely, what we're seeing is a resurgence in the idea that fear-based motivation is essential and good.
I had hoped for better, but in the end, maybe we are just barbarians with iPhones.