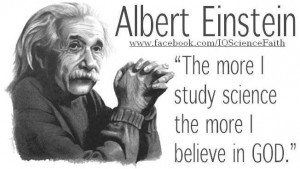 The quote attributed to Einstein, "The more I study science, the more I believe in God," is getting a lot of play around the interwebs.  I though it might be interesting to look at what he might have meant by the statement.
Einstein is also widely quoted as saying, God does not play dice with the universe." Together, these quotes are oft cited as evidence of scientists believing in God—usually by fundamentalist Christian groups defending themselves against the encroachment of science on their literal interpretation of their mythology.
First, Einstein was neither a Christian or even a Jew. He was raised as a Jew and was schooled as a Catholic. He had ample education in the Abrahamic religions, but rejected them nonetheless.
Still, Einstein is not properly classified an atheist either.  He rejected the notion of a personal god. Instead, he said, "I believe in Spinoza's God who reveals himself in the orderly harmony of what exists, not in a God who concerns himself with fates and actions of human beings."
In other words, he was a Deist, and was in the spiritual company of Thomas Jefferson, Ben Franklin, George Washington, Ethan Allen, and Thomas Paine. Deists believe that reason and observation of the natural world, without the need for organized religion, can determine that the universe is the product of a creator.
So Einstein's quote is an observation of the mathematical beauty, the order, the ever unfolding revelation of the inner workings of the universe that he perceived. It's not remotely an affirmation of the bible.
Einstein's god never intervened in human affairs or suspended the natural laws of the universe, and absolutely did not have a supernatural existence or the capacity for miracles.  This makes Einstein a curious poster boy for Christians in specific, or even theists in general.