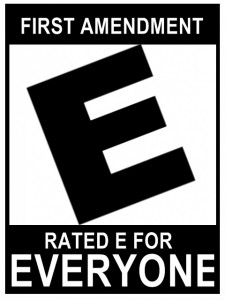 Later today, people of all faiths will gather is Washington at the Nationwide Rally for Religious Freedom.  Tomorrow, people of no faith will gather in the same spot for the Reason Rally.  Both sides claim the timing is a coincidence.
Moreover, both gatherings are hopelessly misnamed.
The Rally for Religious Freedom is actually motivated by the new mandate from the U.S. Department of Health and Human Services (HHS) that requires all employers provide free contraceptives through their health plans.  Further, it's organized by two anti-abortion groups, the Pro-Life Action League and Citizens for a Pro-Life Society.  So the freedom they are advocating for is the freedom to observe their religious laws over secular ones.  While I suppose you can argue that's freedom of a sort, it's certainly not the sort enshrined in the First Amendment.  And let's be clear, while cloaked as an "all faiths" gathering, this is a Christian rally.
Meanwhile, the Reason Rally is advocating for the acceptance of atheists as normal non-threatening members of society.  In part. the hope is to also encourage more atheists to come out of the closet by making them less alone.  While that's a noble goal, a good place to start might be to name your rally something that doesn't imply that all theists are irrational.  The concepts of faith and reason extend far beyond the notion of God.  Rejecting God doesn't make you incapable of having faith in anything, nor does accepting God make you immune to reason.
What's also interesting is that both groups are positioning themselves as the victims.
The Christians, despite being in the vast majority, feel the secularists are launching a war on their religion.  This is as comical as the claims that the LGBT movement is destroying the family.  Just because you don't get to impose your values on everyone else does not translate to a conspiracy to deprive you of your beliefs.
The atheists, who actually are a minority struggling for acceptance, are staging "the largest gathering of the secular movement in world history" in an effort to appear less threatening.  They are trotting out speakers like The God Delusion author Richard Dawkins, who is a perennial lightening rod for those fearing so-called militant atheism.  Granted, when atheists get militant, they tend to write books rather than buy guns, but it's hard to see this as a vehicle for winning the hearts and minds of those who fear you.  This is much more like the secular version of showing up in ass-less chaps and chanting "We're Here! We're Queer! Get used to it!"
In the end, expect a lot of noise in the news cycles about each event, expect a fair bit of manufactured outrage, expect a lot of unhelpful rhetoric, but don't expect too much productive to come of it.