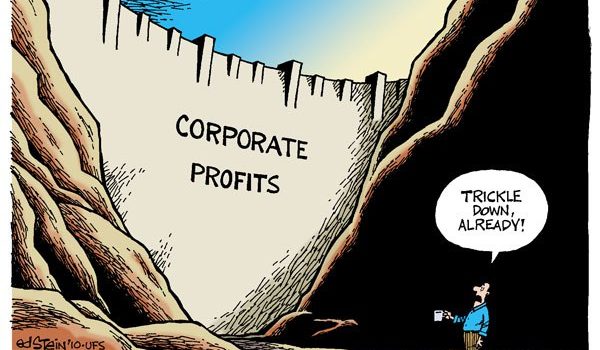 This NYT article is right, but I think the explanation is simpler. Companies don't hire because they have extra cash. They hire because there is unmet market demand such that hiring in the short term makes them more profit in the longer term. If the demand is there, most businesses would borrow to hire. At present, and for the last many years, consumer demand is low while corporate cash reserves are high. Do the math. Jobs aren't there because demand isn't there. Period.
The standard trickle-down argument says that once companies start hiring, they will put cash in workers pockets, who will then drive up demand. And sure, that would work… if lots of companies hired. But this scenario leaves out some crucial detail about how this has to work. To restate the process:
Companies have to hire workers they don't need.
Enough companies have to do this that the collective new workers' paychecks stimulate demand across the economy.
Then (and only then) does the demand materialize that justifies having hired the workers in the first place.
And even after all this, each company is risking that demand will materialize in their particular market. Some of them will be wrong.
Having spent the last 3 decades working in management for and with many companies, I can assure you that very few businesses would take this risk absent some significant exogenous incentive. It's just not going to happen.