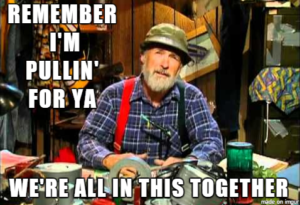 Last night, a majority of you, through your action or inaction, elected Trump. I don't fully understand why, but it kinda doesn't matter now. That's done. Water under the proverbial bridge. No backsies. Besides, whatever your motivation, the reality is that you elected Trump's policies and visions. Further, you swept in a single party to control the White House, Congress, and in short order, the Supreme Court. So there's little to hinder Trump delivering on what he's promised… and soon. After all, Trump has been very plain about how much will change on Day 1 or in the First 100 Days. Maybe that's a bit of hyperbole, but he's easily got 2 years of pretty unchecked reign to get his agenda on track. He's got no excuses, so buckle up.
I admit, I don't really get how a lot of the tactics he's proposed achieve his goals. Granted, his plans are bit thin on details, but it's early. And besides, what the hell do I know? I thought I'd be waking up to President-elect Clinton this morning. But in broad strokes, in terms of end objectives, I really do hope he achieves what he's said.
I'm looking forward to the return of high-paying blue-collar manufacturing jobs, the demise of ISIS and terrorism in general, a better way to keep Iran from nuclear tech, less foreign military deployments, 5% GDP, healthcare that will be so much better than Obamacare, lower taxes, no federal deficits, reductions in violent crime, better educations for our kids, having the VA fixed and providing for our vets, restructuring all our international trade deals and alliances to our benefit, saving Social Security, and rebuilding our crumbling infrastructure. It's ambitious, but if Trump can make even a dent in a significant part of that list without cratering the economy or the environment, sowing civil unrest, or disenfranchising any segments of US citizens, then I'll be first in line to eat crow.
Conversely, if Trump's plan for America leads to some substantive combination of a tanking economy, spiraling debt, cuts to essential government services, debilitating trade wars, actual wars, civil unrest, higher unemployment, increased terrorism, loss of personal freedoms, or runaway environmental crises, then that's on you. You own that. History will make you accountable.
Meanwhile, I'm gonna sit back and let this play out. Just try to keep in mind that this is what you wanted. And remember, I'm pulling for you. We're all in this together now. Don't fuck it up.