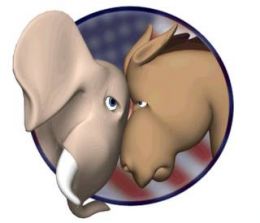 This week has provided for an interesting micro-study on a key difference between our two political parties.
Harry Reid proclaimed that Mitt Romney did not pay any taxes for years. Meanwhile, Romney released a new ad asserting that Obama was gutting welfare reform. These were not tit-for-tat events. They are relatively unrelated. But the parties' and pundits respective reactions to each are instructive.
First, a recap of the facts: Reid's claim is a baseless accusation. The public has no knowledge of whether or not it's actually true, and little reason to believe Reid actually knows. It's a distasteful attempt to put a political opponent on the defensive. To make him guilty until he proves himself innocent.  Romney's claim is different. While it is also intended to put his opponent on the defensive, it is flat-out, demonstrably, unquestionably, factually false.
How were these two events reported? The New York Times is generally considered a left-leaning news source. You might presume they'd defend Reid while hanging Romney out to dry. You'd be wrong.
Compare the opening of a story on Reid:
Senator Harry Reid's decision this week to hurl a taunting, unsubstantiated accusation at Mitt Romney is hardly out of character for the cantankerous Democratic leader of the Senate, who revels in provocative comments and once called Mr. Romney "kind of a joke."
To the opening of a story on Romney:
Seven years ago, Mitt Romney joined other governors to urge the federal government to grant "increased waiver authority" to states to experiment with implementation of the federal welfare-to-work program.

But as he runs for president, Mr. Romney and his Republican allies are now accusing President Obama of "gutting" the welfare program by saying it will consider waivers to states.
These are not cherry picked stories, nor is the NYT unique in this regard. The major media outlets and pundits are pulling no punches in calling Reid out on his baseless accusation.  Meanwhile, Romney's lie is treated as a topic of reasonable debate.
My initial reaction to this was that the "mainstream media" was now so in fear of being labeled as having a liberal bias, they had become afraid to expose even outright falsehoods on the conservative side. And I do think this is at least part of it.  The right's efforts to play up their victimization by a lefty lamestream media have assuredly had an effect on the way news gets reported.
Yet I think that's not the whole story. I think a part of the media reaction also relates to how far the parties get from their behavioral norms. The GOP has key figures claiming Obama's birth certificate was faked, and that there is a Muslim conspiracy brewing in the State department. In the greater scheme of outrageous claims, "Obama guts welfare reform" barely nudges the needle. On the Democratic side, unsubstantiated claims of filing perfectly legal tax returns that play the IRS for every penny are treated as scandalous.
There's a lesson here. Both sides may "play the game", but not to the same degree. It's kind of like claiming the USA and Tunisia were both playing Olympic basketball the other night. While technically true, they weren't playing in the same league.
Still, I know many of you out there are completely frustrated with the whole thing. You claim to hate what both sides do, and that's more than fair. There are no angels in politics.Some of you are determined to check out of the political process by not voting, or you intend to make a statement by voting for a 3rd party candidate.
But the simple reality is this. Come 2013, one of these two parties will take the White House. And one of these two parties will control each of the houses of Congress. With four short months to go until the election, no other party has a remote chance in hell of altering that reality.
One of these things is not like the other. As the Templar Knight told Indiana Jones, "Choose wisely." And as the band Rush reminds us in their song Freewill, "If you choose not to decide, you still have made a choice."