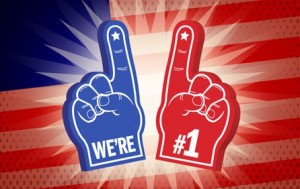 This is America dammit, and it is the greatest best country God has ever given man on the face of this Earth.  You can either agree with that, or we will kick your ignorant ass to the curb.
This has been the mantra of the right-wing of American politics for a few decades now, but in varying degrees it reflects the view of a much broader swath of us.  Post-WWII America has enjoyed a prolonged period of global dominance from military might and technological prowess to economic clout and cultural influence.  We were the Jones everyone else was trying to keep up with, and still are, albeit to a reduced degree.
Maybe we've earned our arrogance, but that doesn't lessen the reality that we are, in fact, arrogant.  And with that arrogance has come the belief that no one else on the planet has a thing to teach us.  We are not only reluctant to learn from others, we are adamantly opposed to entertaining proven solutions that are not homegrown.  More so, if those solutions fly in the face of truths we hold to be self-evident—data be damned.
I've written in this space before about how single-payer and/or single provider healthcare systems employed in vast majority of OCED countries provide comparable healthcare to their citizens at half the cost of U.S. programs.  Yet we are not remotely entertaining any such options because they are deemed "socialist" and un-American.  Socialized medicine lies in opposition to our belief that government is always the problem and never the solution.  This in spite of the success of Medicare and the VA healthcare programs, each of which is completely socialized and also very popular.  Not to mention a widespread acknowledgement that healthcare is one of the most daunting economic and social challenges in our immediate future.
Now comes evidence that we are again sticking our heads in the sand (or other dark place of your imagination's choosing) when it comes to education.  Finland has turned in over a decade of consistent top tier performance amongst OCED countries.  Meanwhile, American students rank in the middle of the pack, despite spending about the same per-capita as the Finns.
It turns out, the Finnish model is based on equality of opportunity rather than competition.  There are no private schools in Finland, and all the public schools get uniform funding and supplies, regardless of neighborhood.  There are no standardized tests (excepting a graduation exam), but there are standardized expectations on both teachers and students.  Teaching in Finland is a high competition profession, and teachers are recruited, paid, and viewed as high-end professionals.  Finnish schools assign less homework and engage children in more creative play.  It is a place where the main driver of education policy is not competition between teachers and between schools, but cooperation.
Americans recognize we need to fix our educational system.  We even recognize the Finns might be doing something right, and repeatedly invite them to consult with us… on how to improve our tests and better incentivize teachers and schools toward high achievement.  In other words, we're all ears as long as what you want to say to us is that we need to do just what we've been doing, but with more gusto.
In truth, the educational trends in the U.S. could not be more un-Finnish.  Eliminate the Department of Education and decentralize schools.  Provide school vouchers for increased competition from private schools.  Issue more standardized tests, and defund schools not living up to performance standards.  Yet, we cling to these policies because they reflect the American values of capitalism, competition, and more stick, less carrot.
As President Bush asked so eloquently, "Is our children learning?"  In a word, "No."  But then neither are the adults.  But at least the adults take a perverse pride in their ignorance.  We're #1, and we want that inscribed on the headstone—data be damned.