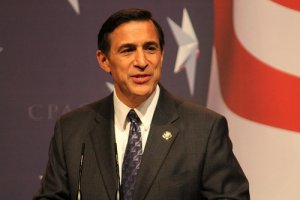 House Oversight Chairman Darrell Issa (R-CA) launched a new website this week soliciting government whistleblowers.  The site is looking for anonymous tips to locate government waste, abuse, and fraud.
Meanwhile, Issa has also promised to investigate Wikileaks, which has been the largest source of whistleblown tips for government waste, abuse, and fraud in recent history.
Issa said his committee would investigate WikiLeaks because it wanted "to get that right so the diplomats can do their job with confidence and people can talk to our government with confidence".
However, in recognition of the probable lack of any existing laws with which to prosecute a foreign news organization for publishing leaked government information, he suggested the new Congress would have to pass legislation to try to prevent "similar acts of whistleblowing".  Issa even calls it whistleblowing in both contexts.
This is not a case of one Congressional hand not knowing what the other is doing.  Both of these plans came from the same office within a couple weeks of each other.  Apparently, with absolutely no recognition of the inherent irony.