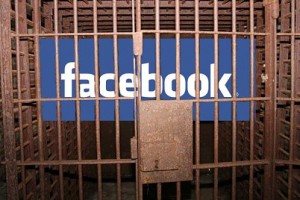 Kodak has organized a stunt whereby a man will remain trapped in a box until 1 million photos are set free from Facebook by using the new My Kodak Moments app.  With the app, users can pull photos directly from their albums and their friends' albums to create photobooks and prints, which can then be ordered on Facebook for delivery.
If you're in New York City, you can visit Mark Malkoff in his transparent box. Or regardless of where you are, you could print something and help end his imprisonment.  Or you could cry, or maybe just cringe.
Yes, I get that this is marketing schtick.  It doesn't have to make complete sense.  But does it have to be embarrassing? After all, they're nice prints. The photo books are great. The app is well done. It's the message behind the stunt that makes me wince. (Full disclosure: I work for Kodak.)
Think about it. Kodak thinks your photos are trapped in Facebook Jail.  A place where they are easily sharable with 800 million Facebook users.  A place where they are archived indefinitely.  A place where they are downloadable, linkable, or cross-postable on demand. Yup, these photos are confined like a lion on the Serengeti.
Further, Kodak is proposing to "free" your photos by printing them such that they exist on a single piece of paper and are only sharable with people who can see over your shoulder.  This is like trying to convince people to free their music from iTunes by pressing it onto vinyl disks.
They should just hang up a sign that says, "Kodak—We don't get it… and get off our lawn."
Let's face it, Kodak is in trouble.  This is no secret.  The news reports daily on Eastman Kodak's efforts to remain financially solvent as it tries to shed the shame of failing to capitalize on the market's shift to digital imaging (a technology it pioneered) and reinvent itself as a printing company, all in the midst of the worst economic downturn since the Great Depression.  Not an easy go.
But it's one thing to be late to the game.  It's another to show up at the football field with your first baseman's mitt and your swim goggles and wonder why no one picks you for their team.