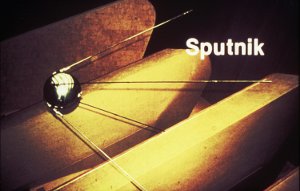 President Obama's State of the Union address last night reminded Americans that our future depends on research and innovation.  The same day that results of the 2009 National Assessment of Educational Progress were released showing that only 21% of graduating high school seniors ranked proficient in science.  Moreover, only 1% ranked at the advanced level, deemed appropriate to pursue science at the college level.  Fourth and eighth graders were also evaluated, and the results were similarly disappointing.
Obama made repeated appeals in his State of the Union speech to the need for a workforce skilled in science and technology:
This is our generation's Sputnik moment. Two years ago, I said that we needed to reach a level of research and development we haven't seen since the height of the space race. In a few weeks, I will be sending a budget to Congress that helps us meet that goal. We'll invest in biomedical research, information technology, and especially clean-energy technology – an investment that will strengthen our security, protect our planet and create countless new jobs for our people.
We're telling America's scientists and engineers that if they assemble teams of the best minds in their fields and focus on the hardest problems in clean energy, we'll fund the Apollo projects of our time.
Maintaining our leadership in research and technology is crucial to America's success. But if we want to win the future – if we want innovation to produce jobs in America and not overseas – then we also have to win the race to educate our kids.
Over the next 10 years, with so many baby boomers retiring from our classrooms, we want to prepare 100,000 new teachers in the fields of science, technology, engineering and math.
These are noble and vital aspirations. Yet the current state of our educational pipeline indicates we may be a decade or more away away from having students prepared to pursue STEM (Science, Technology, Engineering, and Math) based careers.  Only 1% of our graduates are prepared to go on to study in scientific fields in college.  Fixing that is not merely a matter of funding or focus.  Even with the retooling of educational programs and an Apollo-level political will, it will take years and years to reeducate the current generation of students, or a decade to refill the educational pipeline with students who are properly prepared.
Achieving the economic goals outlined by President Obama are very much contingent on becoming a scientifically competent society.  As he said, "The world has changed."  The days of toiling on an assembly line are gone.  Jobs that will allow our children to achieve the American dream require STEM skills and knowledge, and the foundation for that has to be laid in our schools.
This is not a path we are on.  And the results of our national school report card indicate it's also not a path we are remotely prepared to travel.  This leaves us in grave danger of having our Sputnik moment sputter out and stall unless we unite behind this cause as one nation with one purpose, and hold that course for a generation.  Surely, this is a challenge worthy of the American spirit.