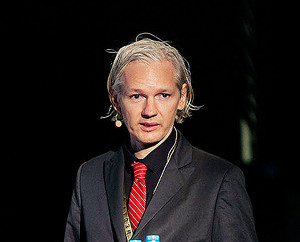 The news is abuzz with the story of Wikileaks releasing some of the 250,000 State Department documents they acquired.  Some, like Congressman Peter King, are claiming the release is worse than a military attack and calling for Wikileaks to be treated as a terrorist organization.  Others are touting Wikileaks founder Julian Assange as a hero for shining light on covert government actions using the government's own documentation.
Clearly, some of the leaked documents are embarrassing, not only to the U.S. government, but to many foreign officials and diplomats as well.  But by and large, the documents just confirm rumors and suspicions of activities widely believed to have been happening anyway.  Is anyone truly shocked to learn that some diplomats are suspected to be spies?  Is it news that Middle Eastern countries other than Israel also view Iran as a growing threat? Are people aghast that China was actually behind the Google Gmail hacks?  On the contrary, it could be seen as comforting to ordinary citizens that our leaders are not as blind to what's going on as it would seem from the official press releases.
While sunshine may be the best disinfectant, it's hard to argue that some amount of secrecy isn't required in order for the government to operate.  The key is trying to figure out where to draw the line.
The press was responsible for exposing information leaked from inside the government that resulted in the downfall of  President Nixon in 1974.  Were Woodward and Bernstein terrorists?   There's no doubt the last decade would have played out much differently had the manufactured run-up to the Iraq War been exposed back in 2003.  Those secrets needed sunshine.
One of the recent Wikileaks releases shows that the President of Oman lied to his parliament about attacks against Al-Qaeda within their borders.  President Ali Abdullah Saleh covered up U.S. military strikes in Oman claiming instead that Omani forces carried out the attacks.  From the perspective of the Omanis who were lied to, was this valuable sunshine?
So far, no one has identified any specific released information that poses a danger to soldiers, diplomats, or anyone else, despite claims from the Pentagon that Wikileaks has "blood on their hands."  In fact, there appears to have been some sort of self-censorship, coordinated by the NY Times, to redact documents deemed to potentially endanger individuals or national security.  Were some of the published documents over the line anyway?  Probably, especially considering that everyone draws the line in a slightly different spot.  But so far, indications are that all of the information released is at least close to the line, and thereby is much nearer to news than a terrorist action.
If there are lessons to be learned from this, perhaps they are these:
If you truly want to keep a secret, don't share it on a network where millions of people have the security clearance to see it.  It only takes one rogue "friend" to expose you.  Has Willow Palin taught us nothing?
Think twice before you justify warrantless wiretaps or invasive security scans based on the assertion, "If you have nothing to hide, then you have nothing to fear."  Just because you haven't committed a crime doesn't mean you'll be comfortable hanging all your laundry on the line… and turnabout is fair play.
Stop labeling everything you don't like with the word "terrorist".  The meaning is diluted enough already.  If Wikileaks' actions induced genuine terror in you, then you likely lack the constitution to sit through the Bride of Frankenstein without running screaming from the theater.  Buck up soldier.
Given that the 21st century press has earned the reputation as the lapdogs of government, it's somewhat refreshing to see them reclaim at least a bit of their watchdog credibility—even if it does push the envelope a little.