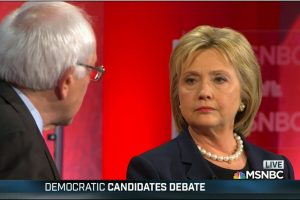 Last night's Democratic candidate debate was far and away the most debate-y event held to date on either side. It was substantive and informative while remaining cordial and not devolving into an ad-hominem slug-fest. Moreover, it drew a delightfully bright line between Clinton and Sanders that even the candidates don't disagree with.
Bernie Sanders is the ideological heir to Obama's 2008 candidacy. He's inspirational. He's all about hope and dreams of a better tomorrow. His vision is transformational.
Meanwhile, Hillary Clinton is practical, prepared, and ready to get down to business. She's all about the art of the possible. She is the heir to Obama's Presidency.
Obama campaigned as a visionary. But when faced with the realities of Washington and the lack of a similarly visioned Congress, he pivoted to governing as a moderate. He focused on figuring out what bits he could get done. His vision remained intact, but his aspirations were tempered with reality. Most importantly, rather than wallowing in the disillusion of his inability to transform Washington, he opted for tactical, directional, and practicable progress.
While I like much of Sanders' vision, his ability to execute on it is, by his own admission, predicated on the political revolution he's trying to foment. He may well rally a swell of people behind him, but there is no complementary group of Democratic Socialist Senate and House candidates running who could sweep in with him to affect the transformation he envisions. He's a one man show. And Sanders' career indicates he's a determined ideologue. He's unlikely to compromise his dream and pivot to practical matters. I fear that at best, he spends four years inspiring future Congressional candidates who would be elected in 2018 or 2020. But by then, the Bern Legacy will have worn off. His accomplishments will be non-existent. His movement will be considered a failure. And we'll move on to something else. After all, Americans are not known for their patience and willingness to endure a long slow slog toward an aspirational goal. "Squirrel."
OTOH, Hillary. She's competent, capable, and better vetted than possibly any other candidate in history. But she's not exciting. She's frankly not even too likable. Sure, she'll keep the lights on. She'll get done what needs doing. Yet she's unlikely to take us anywhere too far off our current trajectory. She's like our safety candidate.
And then there's the practical matter of the general election. Sanders is likely to draw more people to the polls, which helps the Democrats up and down the ticket. Will people come out to vote for Clinton? Probably not. About the only thing she truly inspires is enmity from the right.
In many ways, Hillary and Bernie are like Obama was a victim of some Star Trek transporter malfunction that split Barack into Candidate Obama and President Obama. And in many ways, what I pine for is Scotty to make an 11th hour appearance and put Clinton and Sanders back together again. That's a candidate I could get behind.