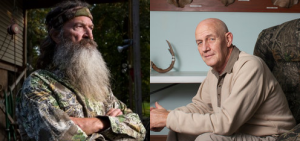 This is a tale of two men. Both men had TV shows, both men expressed their opinions. Both men's employers cut ties with them. But only one inspired outrage for being discriminated against for speaking out.
By now, everyone has heard about Duck Dynasty patriarch Phil Robertson. He said some rather hateful things about homosexuals and African-Americans, which prompted the A&E Network to place him on "indefinite hiatus". This prompted an immediate backlash from conservatives who were apoplectic that Robertson's First Amendment rights were somehow being violated. This story dominated the news cycle and even launched petitions such as IStandWithPhil.com that argued:
"…the notion that a free-thinking American should be discriminated against simply for expressing a perspective that is in conflict with another is patently un-American and flies in the face of true tolerance and civility."
In a parallel universe, Dick Metcalf had a similar experience. Metcalf is one of the country's pre-eminent gun journalists. He was a columnist for Guns & Ammo, and had a TV show on the Sportsman channel called Modern Rifle Adventures. This is a guy with some serious NRA credibility.
However, in late October, Metcalf penned a column titled "Let's Talk Limits". In the column he stated, "The fact is, all constitutional rights are regulated, always have been, and need to be." The column doesn't advocate for much beyond proper training for anyone having a gun. Still, the column inspired the ire of gun manufacturers who primarily sponsor both the magazine and the TV show on which Metcalf appears. The gun companies threatened his employer that Metcalf needed to be fired or they would take their money elsewhere. And so Metcalf was let go.
So the question is, where is the outrage? Why is there no IStandWithDick.com petitioning for the return of this gun enthusiast? After all, the issue with Robertson was that his right to express his opinion was being stifled… right?
The similarity of these cases, down to both victims being conservative icons of sorts, leaves only one interpretation for the relative silence from the political right over Metcalf's dismissal. This wasn't ever about freedom of expression. This was about support for a position. Those rallying for Robertson's return were behind him because he expressed views about gays and blacks that resonated with them. They supported those positions, but lacked Robertson's "courage" to say them aloud. Metcalf got no support because he was advocating a position that was anathema to that same group.
This was never about freedom of a man's speech. It was always about support for a man's views. I'm all for everyone getting to express their views directly, or indirectly by expressing support for others' views, but can we at least be honest about our motivations? I have respect for anyone with the courage to stand by their convictions. But it's simply cowardly to hide your true convictions behind other espoused ideologies you think are more socially acceptable.