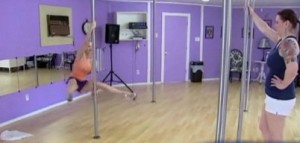 Church-going women are spinning and slithering around poles in the quaint turn-of-the-century Houston suburb called Old Town Spring. While pole dancing fitness classes are gaining in popularity nationwide, the women in this group claim the stripper poles bring them closer to God.
Not surprisingly, the Christian gift shop owners next door and the community in general are a bit less open minded. Dee Bovati, who owns the Lord and Nature gift shop says, "We have to watch those boundaries that we cross over and not allow the enemy to take it in another direction." After all, Satan is long and lean, and apparently made of brass.
Meanwhile, pole dancing instructor Crystal Dean says, "God gives us these bodies and they are suppose to be our temples and we are suppose to take care of them and that's what we are doing."
By all accounts, pole dancing is great exercise, and there's nothing sacrilegious about keeping your body toned and healthy.  But it does take a fair bit of rationalization for dancers like Tiffany Booth to claim that pole dancing, even when set to Christian music, creates a spiritual connection to the Lord and makes her feel closer to God.  Although, maybe it's God who is long and lean, and made of brass.
Clearly some force is flowing through those poles. After all, the Best Shape of your Life studio only holds Pole Fitness for Jesus classes on the second Sunday of each month. And if attending a fitness class once a month keeps you in shape, that's clearly an indication of divine intervention.  So God's hand is in this somewhere.