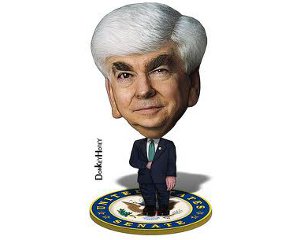 Recently retired Senator from Connecticut Christopher Dodd said upon leaving office he would not seek to become a corporate lobbyist.   But that was two months ago, and times change.  The former five-term Democratic senator announced yesterday he accepted a job as head of the Motion Picture Association of America.
Technically, Dodd is legally barred from becoming a lobbyist for two years after leaving the Senate. However, like so many retired legislators before him, he skirts that rule by not officially being hired as a lobbyist.  Still, as the head of one of the most high profile lobbying groups in the country, it's a distinction without a difference.
Interim MPAA CEO and president Bob Pisano told Hillicon Valley last month that his organization's unwavering focus was on increasing the federal government's efforts to stop online film piracy. Pisano also talks up the importance of COICA and how happy he is that Homeland Security has been seizing domains in violation of the First Amendment and basic due process, even taking down tens of thousands of perfectly innocent sites.
It remains to be seen how or if Dodd's new million dollar job will change his previously professed positions on related issues. He was on record as a big supporter of Net Neutrality. However, the MPAA has come out against net neutrality, claiming it would hamper its efforts to "fight piracy." He was also against ISP data retention, which the MPAA has supported (again as a way to fight piracy). On copyright he was somewhat non-committal, but did talk about how fair use rights are important. A position likely to disappear once he takes the role formerly filled by Jack Valenti—the man who once declared that fair use doesn't exist.
Dodd co-authored the Wall Street Reform and Consumer Protection Act. This legislation was targeted at improving the accountability and ethics of the banking system.  Too bad Dodd's own ethics now seem to be bobbling in the breeze.