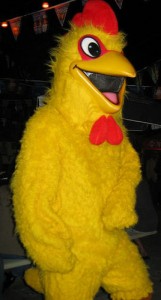 The New York GOP Gubernatorial primary race has taken a turn for the interesting as candidate Carl Paladino has unleashed "Little Ricky" (a staffer in a chicken suit) to dog his opponent Rick Lazio.  At issue is Lazio's unwillingness to commit to a debate with Paladino, hence Paladino's attempt to call him "chicken".
On the one hand, it would seem Lazio is not really playing fair.  After all, voters should get to hear their candidates out, and political debates have long been the gold standard for sorting out potential politicians.
Yet on the other hand, Lazio has little to gain by engaging Paladino.  He's currently enjoying a 30% lead in the polls.  Further, Lazio has the overwhelming support of the Republican party officials in New York.  Meanwhile, millionaire developer Paladino basically bought his way into the race and forced a primary against the GOP's wishes.  And he's threatening to run as a third party in November if he loses the GOP nod anyway.  Debating Paladino arguably only lends credibility to a fringe candidate.
Not that Paladino minds being on the fringe.  He's increasingly positioning himself as a Tea Party candidate.  He's even gone so far as to recommend New York's prisons be turned into dormitories for the poor where they will be put to work for the state and taught lessons in personal hygiene.  After all, how does one achieve affluence if one doesn't know how to properly use a loofah?  It would be incredible (and a little sad) if his plans to open indigent work camps resonated strongly with New York voters.  It certainly seems Paladino is more of an irritant to the GOP than a serious contender.
Still, Paladino is a valid candidate.  No one is questioning his right to run.  As a candidate, he should have the right to face off against his opponent, the right to take his shot.  If he's really as far out there as he seems, Lazio should have no trouble taking him down.
Granted, Lazio, doesn't have to debate Paladino… but he should.  Ideally, with both men wearing chicken suits.  That would be must-see TV.