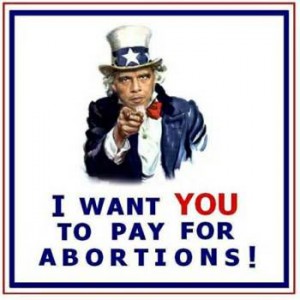 Religion is under attack in America—at least this is part of the ongoing narrative from the far right.  It fits with the themes that Obama in particular and liberals in general are out to destroy the foundational institutions of the country.
It is in the context of this narrative that Michelle Malkin gets her panties all in a bunch over the new Health and Human Services directive that all employers must abide by federal guidelines to include legal contraception as part of their employee medical insurance, including employers such as church run hospitals, schools, and universities. (The churches themselves are still excluded)
Somehow, this translates to a government mandate that churches have to pay for abortions.  Bishop Paul Loverde didn't mince words when he called the U.S. Department Health and Human Services order "a direct attack against religious liberty. This ill-considered policy comprises a truly radical break with the liberties that have underpinned our nation since its founding."
Before I call "bullshit", let me connect the dots.  Since the late 90's, legal contraception has included Plan B or the morning after pill.  If you're of a mind to view an unimplanted fertilized egg as a baby, then this becomes abortion.  So do a lot of other things, but that's not important right now.  Further, strict Catholic doctrine holds that contraceptives of any kind are not allowed.  Hence the claim that the HHS directive is an attack on religious liberty.  Oh, and the HHS is part of the executive branch of government, so this is an order by Obama, who is evil and out to destroy us, one baby at a time.
Ok, all together now… "Bullshit!"
It is this sort of conflation that gives Conservatives the reputation of snake oil salesmen.  There are arguments to be had here, but this ain't one of them.  For example, you might reasonably argue:
Plan B should not be a legal contraceptive
HHS should not require contraceptives to be covered by employee medical insurance
The government should make no regulations on medical insurance
Fine.  Have those battles.  (Actually we did have those battles, that's how we got here.)  But recognize, the actual argument being made is that religious run organizations are exempt from following the law in cases where they disagree with it.  It's wrapped in the cloak of religious freedom because that issue gets people not really paying attention (and that's a scary big bunch of them) all in a tizzy.  The larger point gets muddled because the word "abortion" is tossed around, and everyone loses their frickin' mind.
But suppose the fictional Church of Bob declares that all girls be deflowered by the minister upon reaching menarche.  Pretty clearly no sane person would advocate that the church get a child abuse waiver because it's part of their doctrine.  What if the Gospel according to Bob dictates that no followers will pay taxes, or no followers will enter the military?
The point being that in this country, it doesn't matter (or at least it's not supposed to matter) who you are or what group you belong to.  The law is the law.  Follow it or pay the consequences.  Work to get it overturned.  But are we really going to sit by and argue that any person or group should be exempt from any law because they don't agree with it?
Try that the next time a cop pulls you over. "Gee Officer, you see… the thing is… I don't believe in speed limits."  If that doesn't work, try claiming that speed limits cause abortions.