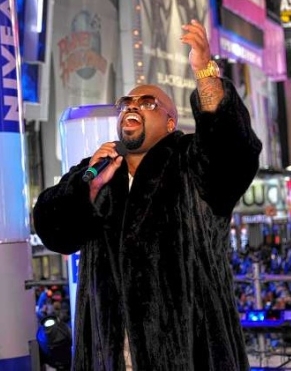 On New Year's Eve in Times Square, Cee Lo Green re-imagined John Lennon's atheist anthem to the horror of many.  Green performed a soulful version of the Beatles' "Imagine" with the lyrics changed from "nothing to kill or die for / and no religion too" to "nothing to kill or die for / and all religion's true."
Twitter was immediately alight with outrage from Lennon fans as well as from the atheist community.  Fair enough.  Beatles fans are notoriously loyal and changing up lyrics is simply treasonous.  And despite Steve Martin's musical assertion that Atheists Don't Have No Songs, they do have a precious few… and Imagine was among them, at least pre-Cee Lo.
But the confounding thing would seem to be the deafening silence from the evangelical community.  Yes, at least a celebrity took a glancing blow at the godless.  But the claim that all religion is true should be as disconcerting to Christian fundamentalists  as claims of no god at all.
Activist Christians are pretty adamant there is but one true religion and everyone else is hell-bound.  Further, they complain loudly of being victimized, marginalized, and discriminated against at everything from not being wished "Merry Christmas" by Wal-Mart greeters to not being able to teach mythology as science in the classroom.  So, why doesn't Cee Lo's lyrical twist have their collective white cotton panties all in a bunch?
I guess maybe Evangelicals don't feel threatened by pantheists?  Yet?