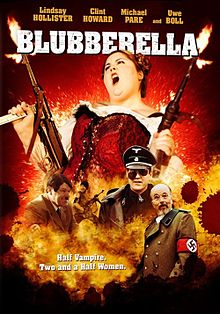 The movie trailer sounded so promising. "A plus-sized superhero takes on Hitler's Nazis." "She's half vampire and two and a half women."  "She will kick ass with her big ass."  This sounded like B-movie cinematic gold.I mean look at that movie poster!
It was Saturday evening. The fire was crackling, and the 6 months of free Showtime service we'd just received beckoned from the flatscreen. My baby, who usually is only willing to share watching such drivel with me if she's asleep, actually suggested we watch together. She knows I've always had a fondness for so-bad-they're-good movies—something she's never shared, but she was up for a taste.
You see, this genre of flicks come in two flavors. The classics are the films that tried real hard to be serious movies. "Glen or Glenda" or pretty much anything by Ed Wood falls in this category, as do most of the vintage sci-fi creature features like "The Creeping Terror". But there's also a world of campy comfort to be found in films that never intended to take themselves too seriously. "Faster, Pussycat! Kill! Kill!" or even the more recent "Mars Attacks!" are in this vein.  All are worthy of a couple hours on the couch calling out one-line quips at the TV in the finest tradition of "MST3K".
Blubberella tries to be in the second category, but it doesn't try real hard. And now, this is the point in the article where I should recap the plot for you… ummm… fat girl… Nazis… cotton candy… dead Nazis… fat joke… blood… hero sandwich… evil doctor… gay joke… look, I have a sword!… Jewish joke… hey, remember I'm a vampire, okay?… Holocaust joke…  It's entirely possible there was some narrative thread that held these elements together, but that will have to be someone's Film Appreciation class thesis to discern. I am not watching it again to try and figure it out. Although, in fairness, I didn't watch it all the way through the first time. A half-hour in I voted to go back and watch Homeland on the On Demand channel instead.
I wonder if director Uwe Boll truly appreciates how monumentally bad a movie needs to be to get me to turn it off?  After all, I've watched "Santa Claus Conquers the Martians" to the end, and I even enjoyed "Battlefield Earth".  I can't help but wonder what Ron Howard thought of his baby brother Clint's featured role in the film. Did he call him afterward and remind him that he should never be too proud to call and ask for rent money? Or at least take him out on a Tranya-fueled weekend bender to forget the horror of the 36-hours it took to produce this mind-numbing waste of photons?
Worst of all, does Boll realize this has forever tainted my lady's view of the genre? She may never again suggest we watch such a thing. And when I wish to, she will roll her eyes so far up she'll actually be able to see how dumb she thinks the idea is.
It's all ruined. Why Blubberella, why?